PRX - Pieces for Tone: Engaging
This special edition of "On Being" features two different sets of materials for fundraising that stations may use. First is an episode that mirro...
Bought by KNKX, WUOT 91.9 FM, KMUW, WNPR, Hawaii Public Radio and more
Added: Sep 12, 2019
Length: 44:17
Purchases: 8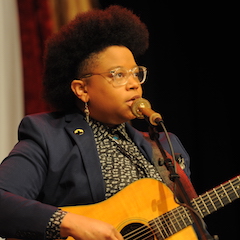 On this week's WoodSongs broadcast, folksinger Michael Johnathon welcomes Southern Gothic folksinger Amythyst Kiah plus Australian virtuoso guitari...
Bought by Red River Radio Network, WETS, Radio Bristol, KJJF, GCR (Global Community Radio) and more
Added: Apr 25, 2019
Length: 59:02
Purchases: 18
On this episode of "The Live Feed" we bring you a holiday special, it's the Winona Brass Band Christmas 2014 Holiday Concert recorded at St. Cecili...
Added: Apr 12, 2015
Length: 46:20
This is the fifth in a five-part radio series focusing on the 1963 March on Washington for Jobs and Freedom. For some who were there, memories of t...
Added: Oct 06, 2003
Length: 07:42
Purchases: 6